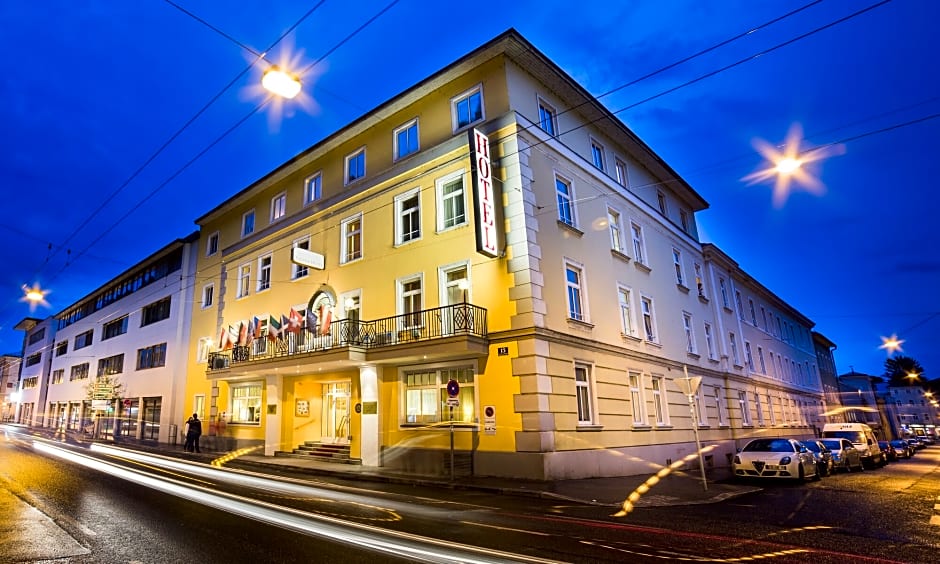 Katso kaikki kuvia galleriassa
Tee varaus Internetissä nyt
1 Huone ==With== 2 Aikuisia
Muuta hakua
Lähetä ystävällesi!
Oliko sivuillamme hyödyllinen? Jaa ystäväsi kanssa!
Täytä alla oleva lomake ja se lähetetään heti.
Huomaa, että emme kerää sähköpostiosoitteita ja emme lähetä
ei sinulle eikä ystäväsi tahansa ei-toivottuja sähköposteja.
Double Single Use Standard
Double Single Use With Air Conditioning
Double Standard
All 58 soundproofed rooms feature free WiFi and minibars. For a bit of entertainment, guests will find TVs with cable channels, and other amenities include room service and pillow menus.
Double With Air Conditioning
Quadruple Room, 1 Double Bed with Sofa bed
1 Double Bed and 1 Double Sofa Bed
323-sq-foot (30-sq-meter) room with city views
Internet - Free WiFi
Entertainment - 32-inch TV with cable channels
Food & Drink - Room service and minibar
Sleep - Hypo-allergenic bedding, a pillow menu, and blackout drapes/curtains
Bathroom - Private bathroom, a hair dryer, and a shower
Practical - Laptop-compatible safe, desk, and phone; free cribs/infant beds available on request
Comfort - Daily housekeeping
Need to Know - No rollaway/extra beds available
Non-Smoking
Mini-Bar

Cable/Satellite TV
In room safe

Internet Access - Free in room
Quadruple Room, 1 Double Bed with Sofabed (Air Conditioning)
1 Double Bed and 1 Double Sofa Bed
323-sq-foot (30-sq-meter) room with city views
Internet - Free WiFi
Entertainment - 32-inch TV with cable channels
Food & Drink - Room service and minibar
Sleep - Hypo-allergenic bedding, a pillow menu, and blackout drapes/curtains
Bathroom - Private bathroom, a hair dryer, and a shower
Practical - Laptop-compatible safe, desk, and phone; free cribs/infant beds available on request
Comfort - Air conditioning and daily housekeeping
Need to Know - No rollaway/extra beds available
Non-Smoking
Mini-Bar

Cable/Satellite TV
In room safe

Internet Access - Free in room
Standard Double Room
1 Double Bed
215-sq-foot (20-sq-meter) room with city views
Internet - Free WiFi
Entertainment - 32-inch TV with cable channels
Food & Drink - Room service and minibar
Sleep - Hypo-allergenic bedding, a pillow menu, and blackout drapes/curtains
Bathroom - Private bathroom, a hair dryer, and a shower
Practical - Laptop-compatible safe, desk, and phone; free cribs/infant beds available on request
Comfort - Daily housekeeping
Need to Know - No rollaway/extra beds available
Non-Smoking
Mini-Bar

Cable/Satellite TV
In room safe

Internet Access - Free in room
Standard Double Room (Air Conditioning)
1 Double Bed
215-sq-foot (20-sq-meter) room with city views
Internet - Free WiFi
Entertainment - 32-inch TV with cable channels
Food & Drink - Room service and minibar
Sleep - Hypo-allergenic bedding, a pillow menu, and blackout drapes/curtains
Bathroom - Private bathroom, a hair dryer, and a shower
Practical - Laptop-compatible safe, desk, and phone; free cribs/infant beds available on request
Comfort - Air conditioning and daily housekeeping
Need to Know - No rollaway/extra beds available
Non-Smoking
Mini-Bar

Cable/Satellite TV
In room safe

Internet Access - Free in room
Standard Double Room Single Use, 1 Double Bed
1 Double Bed
215-sq-foot (20-sq-meter) room with city views
Internet - Free WiFi
Entertainment - 32-inch TV with cable channels
Food & Drink - Room service and minibar
Sleep - Hypo-allergenic bedding, a pillow menu, and blackout drapes/curtains
Bathroom - Private bathroom, a hair dryer, and a shower
Practical - Laptop-compatible safe, desk, and phone; free cribs/infant beds available on request
Comfort - Daily housekeeping
Need to Know - No rollaway/extra beds available
Non-Smoking
Mini-Bar

Cable/Satellite TV
In room safe

Internet Access - Free in room
Standard Double Room Single Use, 1 Double Bed (Air Conditioning)
1 Double Bed
215-sq-foot (20-sq-meter) room with city views
Internet - Free WiFi
Entertainment - 32-inch TV with cable channels
Food & Drink - Room service and minibar
Sleep - Hypo-allergenic bedding, a pillow menu, and blackout drapes/curtains
Bathroom - Private bathroom, a hair dryer, and a shower
Practical - Laptop-compatible safe, desk, and phone; free cribs/infant beds available on request
Comfort - Air conditioning and daily housekeeping
Need to Know - No rollaway/extra beds available
Non-Smoking
Mini-Bar

Cable/Satellite TV
In room safe

Internet Access - Free in room
Triple Room
1 Twin Trundle Bed or 1 Double Bed
269-sq-foot (25-sq-meter) room with city views
Internet - Free WiFi
Entertainment - 32-inch TV with cable channels
Food & Drink - Room service and minibar
Sleep - Hypo-allergenic bedding, a pillow menu, and blackout drapes/curtains
Bathroom - Private bathroom, a hair dryer, and a shower
Practical - Laptop-compatible safe, desk, and phone; free cribs/infant beds available on request
Comfort - Daily housekeeping
Need to Know - No rollaway/extra beds available
Non-Smoking
Mini-Bar

Cable/Satellite TV
In room safe

Internet Access - Free in room
Triple Room (Air Conditioning)
1 Twin Trundle Bed or 1 Double Bed
269-sq-foot (25-sq-meter) room with city views
Internet - Free WiFi
Entertainment - 32-inch TV with cable channels
Food & Drink - Room service and minibar
Sleep - Hypo-allergenic bedding, a pillow menu, and blackout drapes/curtains
Bathroom - Private bathroom, a hair dryer, and a shower
Practical - Laptop-compatible safe, desk, and phone; free cribs/infant beds available on request
Comfort - Air conditioning and daily housekeeping
Need to Know - No rollaway/extra beds available
Non-Smoking
Mini-Bar

Cable/Satellite TV
In room safe

Internet Access - Free in room
Triple With Air Conditioning
Twin Room
2 Twin Beds
215-sq-foot (20-sq-meter) room with city views
Internet - Free WiFi
Entertainment - 32-inch TV with cable channels
Food & Drink - Room service and minibar
Sleep - Hypo-allergenic bedding, a pillow menu, and blackout drapes/curtains
Bathroom - Private bathroom, a hair dryer, and a shower
Practical - Laptop-compatible safe, desk, and phone; free cribs/infant beds available on request
Comfort - Daily housekeeping
Need to Know - No rollaway/extra beds available
Non-Smoking
Mini-Bar

Cable/Satellite TV
In room safe

Internet Access - Free in room
Twin Room (Air Conditioning)
2 Twin Beds
215-sq-foot (20-sq-meter) room with city views
Internet - Free WiFi
Entertainment - 32-inch TV with cable channels
Food & Drink - Room service and minibar
Sleep - Hypo-allergenic bedding, a pillow menu, and blackout drapes/curtains
Bathroom - Private bathroom, a hair dryer, and a shower
Practical - Laptop-compatible safe, desk, and phone; free cribs/infant beds available on request
Comfort - Air conditioning and daily housekeeping
Need to Know - No rollaway/extra beds available
Non-Smoking
Mini-Bar

Cable/Satellite TV
In room safe

Internet Access - Free in room
Twin With Air Conditioning